Mstaml Inc. : We celebrate Mstaml's 20th anniversary since it was launched in the Middle-East.
Mstaml : is a program designed to help people buy and sell cars, find houses and sell services and products such as furniture, devices and other items, as it helps them search for job opportunities and sell new and used items, as well as making trading deals and a lot of other things, in an easy and secured way, Welcome to Mstaml.
In Mstaml, we believe that great apps must work efficiently so that you can focus on selling your items, products or services, as Mstaml helps you sell your services or sell and buy used or new items online step by step. We also provide numerous great features in Mstaml's app to make it easy to use.
The story of Mstaml.
Our journey started in 1422 corresponding to 2001, as the first online Arabic market was launched on the internet; Mstaml's website. Back then, an online system that helps people communicate and trade in the kingdom of Saudi Arabia was needed, a system that offers free announcement services on the internet for any goods or services, used or new.

Mstaml, hence the name, is an Arabic word. The website was named this way to make it easily searchable, which made it one of the most visited websites. Mstaml; with its countless sections; is being visited by hundreds of thousands of visitors monthly for its unique services.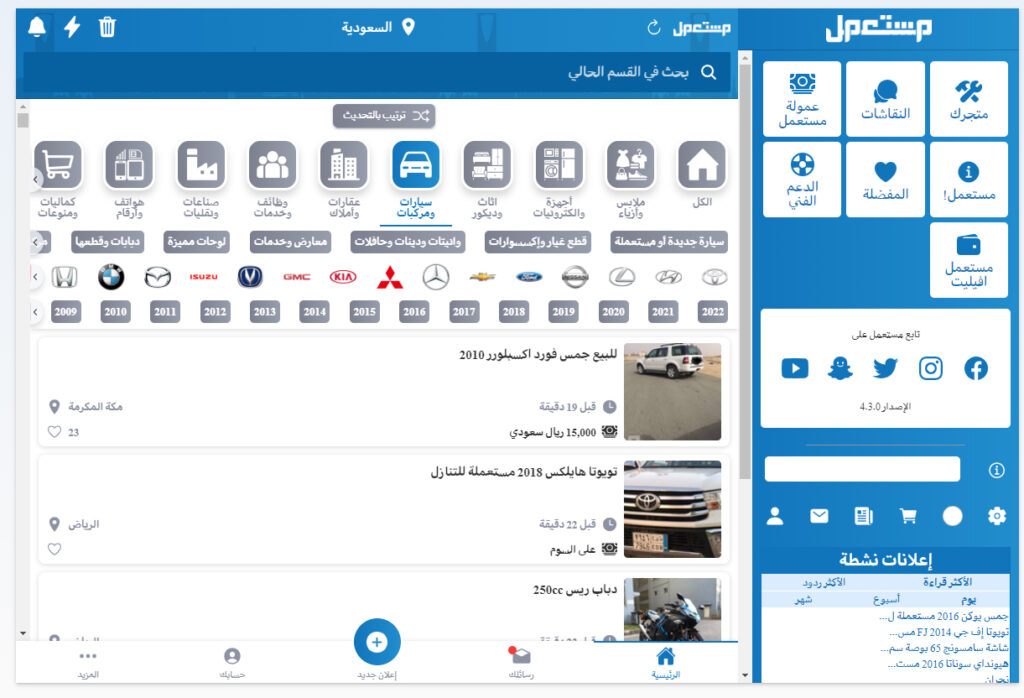 Mstaml exhibits thousands of goods and services available for any client to check an order directly from the sellers without a medium. If you wish to sell or advertise any product or service, all you have to do is list your announcement on Mstaml to be seen by users from your country.
Constant Development and Keeping Up with The Users' Needs.
Mstaml's system has evolved gradually with time thanks to the efforts of the experienced and passionate engineers and developers. Mstaml's crew consists of local and foreign youthful employees who are considered the driving force of Mstaml's app, as we hire highly qualified workers to accelerate the development and to keep up with the clients' demands and maintain a good relationship with the prominent persons in relevant domains by creating a working environment that features a challenging pattern. In the current period of 2021, we restructured 75% of Mstaml's crew by hiring some of the most skilled and talented individuals in terms of management experience, development, customer service, marketing, programming and public relations. With our current crew, we look forward to achieve high results that serve Mstaml's users, as well as the investors in our future plans.
Developed programs compatible with all devices that simplify searching and selling.

Since the first day Mstaml was launched, it ran on special and powerful programs that were developed internally by a team of developers and engineers who were eager to develop the system to function with the latest programs, as they used:

⦁ PHP: for processing server requests.
⦁ MySQL: for storing data.
⦁ Ionic: For an appealing interface that fits all portable devices.
⦁ Angular: For speed and interaction.

And other technologies such as: Cordova, Javascript, jQuery, Typescript, HTML, SASS, CSS, Mustache, AMP. These technologies were developed by trusted and approved sides, as we update them to the latest versions on a regular basis. To make Mstaml work on the highest levels of security; we use the best coding techniques to save the passwords and the privacy info of our users.

Mstaml on the Media.
Mstaml has gotten a big coverage by the local Arabic media since it was launched in 2001, this media coverage is still going as long as Mstaml is achieving success, as some of the most watched TV programs and newspaper spoke about Mstaml on many occasions.