Providing the app for Huawei users to makes it easy for them to use Mstaml for selling and buying services.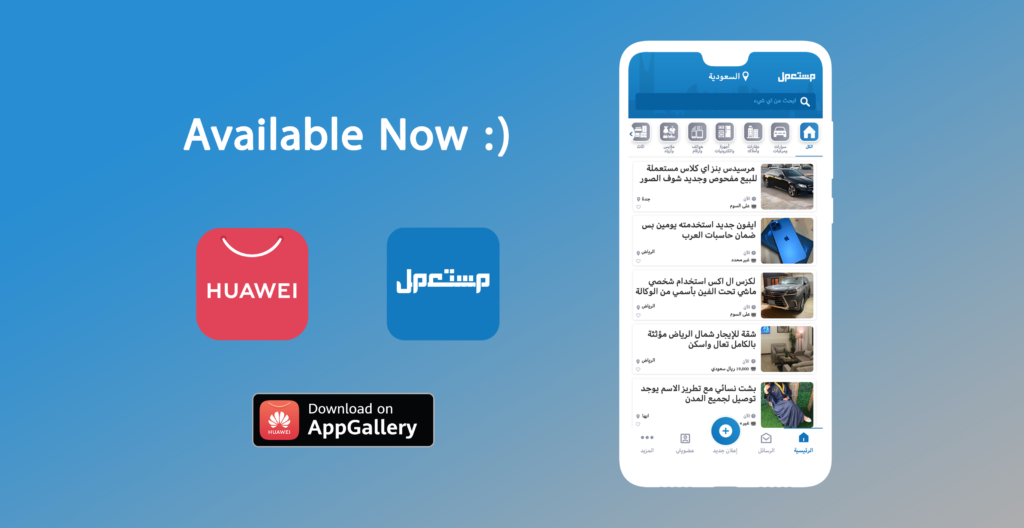 Mstaml- Middle East – Kingdom of Saudi Arabia – 30th of Nov 2020: Mstaml officially launched its app on AppGallary that belongs to Huawei, which is the official application store of Huawei and Honor devices, this was made possible after the cooperation between Huawei in the area and the plan of Mstaml that aims to expand its range to be used on Huawei devices so that the users of these devices can sell and buy on Mstaml's app easily.

Mstaml provides free direct announcement services online for any products or services, as it provides an inviting atmosphere for sellers and buyers who are interested in: cars, real estate, devices, furniture, pets… and more, because it exhibits countless products that can be ordered directly from their owners.
You can now sell similar products, or purchase the product that you are looking for directly from the owner without a medium.
If you wish to announce a product, all you have to do is list your announcement, and it will be shown directly on Mstaml to be seen by users from your country.

Now, Mstaml works on Huawei devices as fast as it works on other devices.
HUAWEI AppGallery store is considered the main platform for distributing Huawei apps, as it is considered one of the top 3 best app stores in the world, it features a wide variety of developed apps that offer a better and a slicker experience.
Now, HUAWEI AppGallery aims to meet the demands of more than 500 million active users on a monthly basis in more than 170 countries. In 2020, the downloads of the app reached 261 billion downloads in the first semester, which confirms that this app store is getting more and more popular.

To download the app, click here.