Big changes in the design and the experience of the user and solving a lot of problems.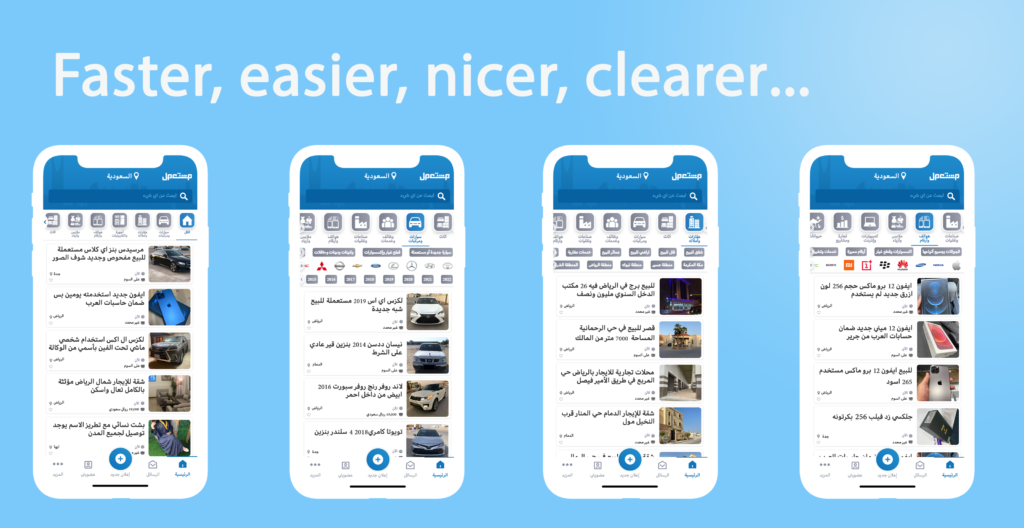 Mstaml – Middle East – Kingdom of Saudi Arabia – 5th of Feb 2021: the latest version of 4.3.0 was launched, which had major modifications on the app in all devices and systems, this version was developed with extra care by solving all problems that faced users in the earlier version, in addition to many modern developments and updates which are compatible with the latest systems used in programming to make browsing announcements easier and faster.

The main aspects that were developed in the latest version 4.3.0

⦁ The interface of Mstaml is now updated to be faster, to look modern and to be compatible with all devices, the font is now clearer and compatible with all browsers.
⦁ Internal upgrades that touched the programming aspect to speed up the performance.
⦁ Rearranging the order of pages.
⦁ Creating a "Help center" section where users can find answers to most of their inquiries.
⦁ Reactivating the stores memberships and allowing registration thru the app instead of the web page alone.
⦁ Adding Mstaml "Affiliate" so that users can earn money from views and clicks and subscriptions.
⦁ Users with small strikes can browse the website and contact the administration.
⦁ Fusing the favorite announcement page and topics together by putting them together in the "more" tab.
⦁ The verified membership is now free, as well as the verification form, now the verification sign will appear next to the name and in the communication platforms and in the profile of the member.
⦁ Updates in the Saudi Arabia interface in addition to new plugins and adding new areas and streets from the gulf area.
⦁ Adding new sections.
⦁ Solving the scrolling problem in the discussion section.
⦁ Solving the problem of losing the backup when moving from a section to another.
⦁ Solving the problem of design your store page; when users open the page and try to leave it, an error panel occurs and the changes aren't saved.
Download app now and enjoy 🙂